The tummy tuck is a cosmetic surgical process to improve the appearance of the abdomen. During a tummy tuck, also called abdominoplasty, the excessive fat is removed from the abdomen.
Then the connective tissue in the abdomen gets secured with sutures to give the tummy a natural look. The purpose is to remove the excess skin that can't get removed through exercise. The extra skin can be the result of pregnancy or losing too much weight.
You can choose to have a tummy tuck if you have excessive fat around your belly button or a weak abdominal wall. A tummy tuck helps to enhance the image of your body.
Where To Get Tummy Tuck Surgery In Lahore?
The best place to get a tummy tuck surgery in Lahore, Pakistan, is Aesthetic Care by Dr. Hammad Saleem. He is the most reliable and professional surgeon in town with eight years of hands-on experience.
He'll address your concerns and give you a budget-friendly treatment with satisfactory results. Don't waste your time and book a consultation with Dr. Hammad Saleem today.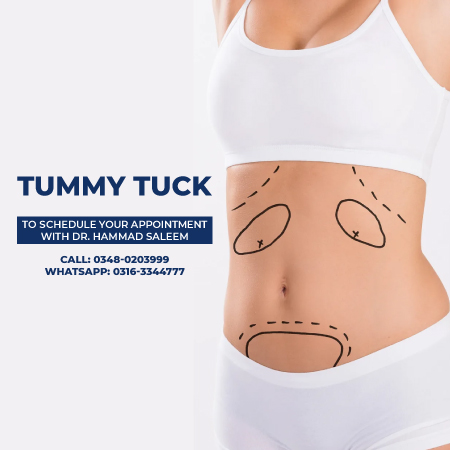 Why Choose Aesthetic Care For Tummy Tuck?
Choosing a cosmetic surgeon is not an easy task. But we'll recommend you three things to weigh before you chose a surgeon for your next surgery. These are experience, expertise, and consistency.
Dr. Hammad Saleem has an eight years' history of successful surgeries. His expertise got proven and verified by Pakistan's official health commission.
Last but not least, he's providing the best results for tummy tuck surgery in Lahore using his aesthetic sense.
How Is A Tummy Tuck Performed?
Before the surgery, there'll be a medical examination of the patient by a professional doctor. After that, the patient will get put to sleep using anesthesia. An incision will get made below the skin that covers the abdominal wall.
After the muscles get exposed, the doctor will stitch the muscles together in the abdominal wall if they're extended out. The surgeon will pull tight the skin wrapping your abdomen, cut off the extra skin and stitch the incisions. This entire surgery will take 2 to 3 hours.
Who Are The Best Candidates For Tummy Tuck?
Men and women should consider getting a tummy tuck only if they are in good health. The process is more useful for women who undergo pregnancies and sagged abdominal skin.
The tummy tuck surgery will pull tight the muscles of the tummy and reduce the skin to get it in shape. It's also a good option for those who were once obese and still have excess fat deposits and loose skin.
Who Should Avoid A Tummy Tuck?
If you're a woman and have a plan for kids, then you'll have to delay your plan of getting a tummy tuck. You can choose to get it after you're done having children.
This surgery tightens the muscles of the abdomen, and a future pregnancy can separate these muscles.
If you're suffering from a severe condition like heart disease, then avoid considering a tummy tuck.
A tummy is not an option for you if you want to lose lots of weight. Keep the abdominoplasty as your last option after trying everything else. Don't use it as an alternative to weight loss.
Also, keep in mind that there'll be scars that appeared after getting a tummy tuck. You can talk about this issue with your doctor before the surgery.
Why Is A Tummy Tuck Done?
There are different reasons a person can get fat and poor skin elasticity around the abdomen. These can be weight fluctuations, pregnancies, aging, or surgery such as C-sections.
The tummy tuck surgery will remove the extra skin and fat, also tighten the weak fascia. An abdominoplasty will also remove the stretch marks in the lower part of the abdomen.
Sometimes people get an abdominoplasty with other procedures like breast surgery to enhance their look.
How Much Weight Do You Lose With A Tummy Tuck?
The primary purpose of a tummy tuck is not to lose weight but to provide enhancement to a person's appearance. The surgery is not for weight loss, but patients will have some weight loss after the removal of excess fat.
How much weight loss a person will have after a tummy tuck will vary. Most patients lose a minimal weight, around five pounds. Patients will excessive skin may lose up to 10 pounds or sometimes even more than that.
How Painful Is A Tummy Tuck?
The surgery itself isn't painful and you'll get anesthesia and medicines to numb the abdominal area. Intense pain will start in the first few days after the surgery.
When you try to stand straight, you'll feel like your tummy is getting pulled. But the pain medication can help to control the pain you'll experience up to some extent. Swelling can also last up to three months after the surgery.
The scar will get red and raised initially, but it will fade away with the passing time.
What Risks Are Involved?
You'll have to take lots of your care after the surgery as it's a major one. Yet, here are the possible risks involved in an abdominoplasty.
An incision scar from a tummy tuck will be permanent, but it will be near the bikini line and can get hidden easily.
The area where there are incisions might heal very late, or it can sometimes break up. It can cause significant scarring or loss of skin. The doctor will give you antibiotics after the surgery to avoid infections.
Bleeding Or Blood Clots Under The Skin
The blood clot formation can get prevented if the drainage tubes are left in place after the surgery. It can reduce the risk of excessive fluids. The doctor might remove this fluid after the surgery using a syringe.
During the surgery, fatty tissues in the abdomen can get injured. The tissue might recover by itself or need a surgical touch-up.