Laser hair removal is a medical process to remove unwanted hair by using a concentrated beam of light, i.e., a laser. In this treatment, a laser emits light absorbed by melanin, a pigment in the hair.
The light is then converted to heat for damaging the hair follicles that produce hair. This treatment prevents hair from growing in the future.
Laser Hair Removal In Lahore
For the best laser hair removal treatment, the most recommended clinic is Dr. Hammad's Aesthetic. Having vast experience in cosmetic surgeries, he can provide you the best laser hair removal in Lahore, Pakistan.
At the clinic, we use the effective and safest laser made by some of the finest laser manufacturers in the world. So don't worry about the risks or side effects because the treatment we provide is safe and cost-effective.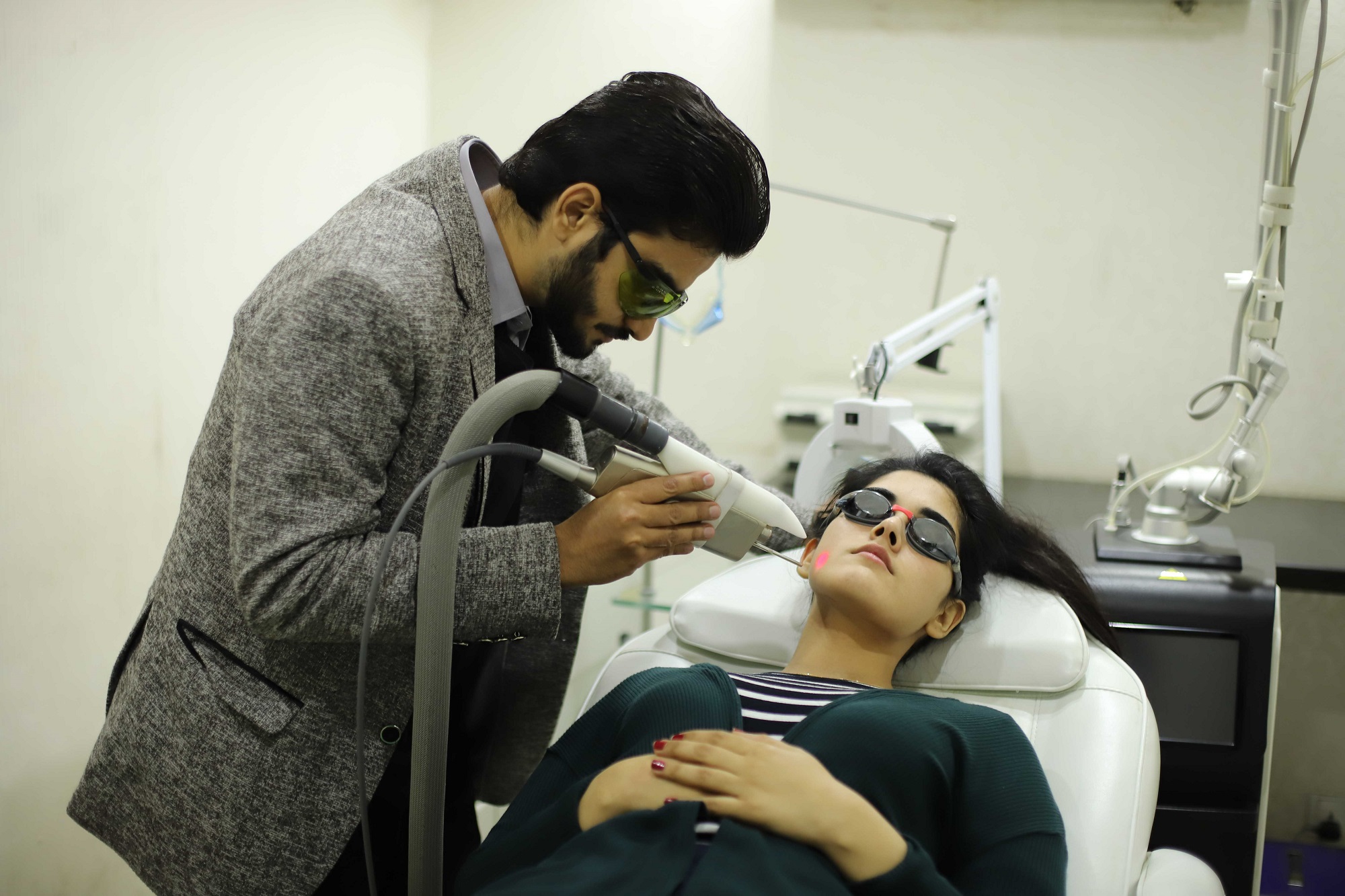 What's The Cost For Laser Hair Removal In Lahore?
The use of high-quality equipment makes it difficult to keep the cost of the process low. But still, Dr. Hammad Saleem manages to make customized packages for his patients.
Pakistan's health commission verified the aesthetic clinic, and Dr. Hammad is a verified doctor from PMDC.
You can get customized consultation at this clinic and a reasonable price for laser hair removal in Pakistan. We make sure to perform our treatments professionally and ethically correct.
What are you waiting for? Book your consultation or visit the clinic during working hours.
What To Expect After First Session Of This Treatment?
The process of laser hair removal usually involves two to six treatments. There can be an interval between these treatments, which can vary according to the hair type.
For instance, if you're getting your upper lip treated, there's rapid hair growth. So you might need treatment in four to eight weeks. However, like the back, the treatment might be every 12 to 16 weeks in areas with slow hair growth.
During the session, you'll wear specific goggles to protect your eyes from the laser beam. Also, there would be an application of a topical anesthetic on your skin to avoid any kind of discomfort.
What Is Laser Hair Removal?
Laser hair removal delays hair growth for long periods, but don't expect it to remove hairs permanently.
For the initial removal of hair, you might need many laser treatments as well as maintenance treatments.
This treatment is successful for all skin types, it's more practical for folks with dark hair and light skin.
So if you're tired of waxing or shaving your unwanted hair, consider getting laser hair removal.
What Is The Procedure Of Laser Hair Removal?
The process itself is not that difficult and won't take too much time. Before we start the treatment, we'll trim off your hair to a certain millimeter above the skin.
Then we'll use a numbing machine to numb your skin so that the process goes smoothly. A hand-held laser tool will get pressed against your skin, it will be set according to the thickness and location of hair.
There'll be a cooling device or a gel on the top of the instrument to protect your skin and minimize risks.
When this instrument gets activated, a laser beam will pass through your skin to the hair follicles. This heat emitting from the laser beam destroys the hair follicles, which prevents hair growth.
You might feel unpleasant like a warm pinprick, or you might feel the coldness of the cooling gel.
A small area like the upper lip will take only a few minutes to get treated. But a larger area like the back can take more than an hour.
Laser hair removal isn't recommended for eyebrows or surrounding areas. The reason is that there's a higher risk of getting a severe eye injury.
There can be a bit of redness or swelling for the first few hours on the treated area; you can apply ice on it.
How Long Does This Treatment Last?
If you want to know how long it will take before your hair grows back, you'll have to know the growing pattern of hair.
There are four stages of hair growth, and these are:
Anagen – the growing phase
Catagen – the transition phase
Telogen – the resting phase
Exogen – the shedding phase
Every time your hair grows, they have to go through all these four stages. Laser hair treatment removes the existing hair below the skin or at the root.
For this reason, laser hair removal targets hairs during the anagen or growing phase. So it takes multiple treatments to get all of the hair out from the skin.
Laser hair removal works differently on the body and on the face. As long as it's the body, laser treatment may give very long-lasting or permanent results. On the face, laser hair removal is not permanent, but still, it has a long-lasting effect.